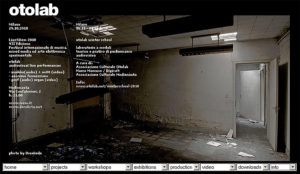 Ultimamente non aggiornavo il sito perchè lavorando non riuscivo a fornire le decine di foto richieste per questa serata.
Otolab è un collettivo milanese che opera nel campo del multimedia, audiovisuals, li ho recensiti diverse volte in una webzine musicale, c'è una certa stima reciproca da anni diciamo, ma non si era mai fatto nulla insieme.
E' nata l'idea di un set video con foto mie, su base musicale di uno di loro, l'altro usa il software di elaborazione e sincronizzazione.
Sito di Otolab: www.otolab.net/
Ecco il programma della serta, è all'interno di un festival di musica elettronica, Live iXem, la serata indicata è in grassetto.
_______________________________________
Live!iXem 2010
VII Edizione_ 29 e 30 ottobre milano | isola
Festival internazionale di musica, mixed media ed arte elettronica
un progetto di AntiTesi (Domenico Sciajno) e U.S.O.Project (Matteo Milani_Federico Placidi) in collaborazione con O' e Die Schachtel.
Dopo l'evento introduttivo di Torino, l'appuntamento milanese del festival si svolgerà nel quartiere Isola, tra gli spazi di O', Medionauta e VisualContainer nei giorni di venerdì 29 e sabato 30 ottobre, dal mattino sino a notte e con un fitto calendario di appuntamenti.
Tra questi, il workshop 'Movimenti di immagini acustiche' che ha come tema il field recording, le sue trasformazioni, la sua riproduzione nello spazio acusmatico e consisterà di tre differenti momenti: il primo caratterizzato da un approccio tecnico di base, il secondo dall'ascolto ottimale di sorgenti sonore ambientali scelte come punti di un ipotetica mappa sonora ideale, il terzo, infine, prevede la registrazione fisica 'on-site' di eventi sonori.
Quest'anno Live!iXem, è inoltre caratterizzato dalla collaborazione con 'Ear to the Earth 2010 – Water and the World', Festival prodotto da EMF_Electronic Music Foundation/Joel Chadabe, che avrà luogo contemporaneamente a NYC.
Live!iXem 2010 è una collaborazione:
AntiTesi, Palermo; U.S.O.Project, Milano; O' associazione non profit, Milano; Die Schachtel, Milano;
HiroshimaMonAmour & CIM, Torino; VisualContainer, Milano; Medionauta, Milano e con la partecipazione di
EMF_Electronic Music Foundation, NYC.
PARTNERS & SUPPORT:
MIC_Music Information Centre Norway; Roland Italy; SMAP (San Marino Audio Project); Sound Corporation, Reggio Emilia; L.A.B.LaboratorioArtiBovisa/AngeloColombo, Milano; NEOMA associazione, Milano.
DOVE:
O' via pastrengo 12; Medionauta via Confalonieri 2; VisualContainer via Confalonieri 11, Milano | Isola
Passante Ferroviario e M2 Garibaldi, M3 Zara, tram 2, 4, 7, 31, bus 82, 70, 43
COME:
tutti gli appuntamenti sono ad ingresso libero ad eccezione del workshop (per cui è prevista una quota di 60 euro)
- e per le serate da MEDIONAUTA (tessera associativa 5 euro).
MORE INFO:
AntiTesi www.antitesi.org IXEM www.ixem.it
U.S.O. Project/Matteo Milani www.usoproject.com
O' t.02 6682 3357 o@o-artoteca.org
PROGRAMMA
VENERDÌ 29 OTTOBRE
> h.10.30 – 22.30
O' via Pastrengo 12
Interno3 installazione modulo #814: 45° 25 48.20 N 12° 21 17.17 E [I was here]
> h.10.30 -17.00
O' via Pastrengo 12 | iscrizione € 60, max. 15 partecipanti
I° parte del workshop Movimenti di immagini acustiche a cura di Alessandro Massobrio e Fabio Orsi
e con Ricciarda Belgiojoso, autrice del libro 'Costruire con i suoni
> 18.00 – 20.00
[.BOX] VisualContainer via Confalonieri, 11 cortile interno – ring 43
U.S.O. Project Empty Rooms installazione
> 20.15 – 22.30
O' via Pastrengo 12
> 20.15 Schermi Sonori – musica elettroacustica ambientale a cura di U.S.O. Project/EMF
visual: Selfish (Giovanni Antignano)
> 21.00 Alessandro Massobrio (FlushingDevice) Live set (e.guitar – electronics)
> 21.40 Byron Westbrook (USA) CORRIDORS performance
> 23.00
Medionauta via Confalonieri, 2
Otolab live video; materiali fotografici: drex | Thania Lòpez | sabinacuccibar
SABATO 30 OTTOBRE
> h.10.30 – 22.30
O' via Pastrengo 12
Interno3 installazione modulo #814: 45° 25 48.20 N 12° 21 17.17 E [I was here]
> h.10.30 -18.00
O' via Pastrengo 12
II° parte del workshop'Movimenti di immagini acustiche' a cura di Alessandro Massobrio e Fabio Orsi,
con Natasha Barrett (NO) guest lecturer
> 18.00 – 20.00
[.BOX] VisualContainer Via Confalonieri, 11 cortile interno – ring 43
U.S.O. Project Empty Rooms installazione
> 20.15 – 22.30
O' via Pastrengo 12
> 20.15 Schermi Sonori – musica elettroacustica ambientale a cura di U.S.O. Project/EMF
visual: Selfish (Giovanni Antignano)
> 21.00 Fabio Selvafiorita_Valerio Tricoli Death by Water
> 21.45 Natasha Barrett (NO) Reality and Secrets no.1
> 23.00
Medionauta via Confalonieri, 2
" unreasonable (be)haviour" | ilcanediPavlov! (Alessio Galbiati) + infrason
Live Cinema
"un.popular mechanics"| selezione sonora a cura di luxa (ass.cul. Neoma) + Selfish (video)
Live Video